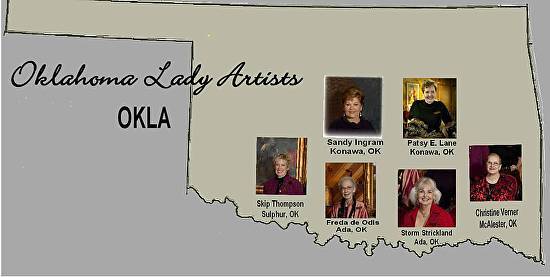 Oklahoma Lady Artists
okladyartists@wildblue.net
Oklahoma Lady Artists was formed in 2007 in order to promote art in Oklahoma, individual art careers as well as women artists everywhere.
The group consists of six women who are widely diverse in personality and artistic expressions. One member is primarily a sculptor and five are primarily painters. Some of the painters work mostly in oils while others favor watercolor and acrylics. Although they live in different parts of the state the members come together several times a year for exhibitions, paint outs, meetings and sometimes just to enjoy the camaraderie and some pretty lively critique sessions. Perhaps the most function of the organization is the encouragement and sharing of information. They consider each other sisters and champions of one another. Members are like a pep club, always cheering for each other.



Current Members are:


Sandy Ingram, Konawa, OK - http://www.sandyingram.com

Patsy E. Lane, Konawa, OK
Freda de Odis, Ada, OK

Storm Strickland, Ada, OK

Skip Thompson, Sulphur, OK - http://www.skipthompson.net

Christine Verner, McAlester, OK -


You may access each artists works by clicking on Artists Works and then on the individual's names. New works will be added periodically.